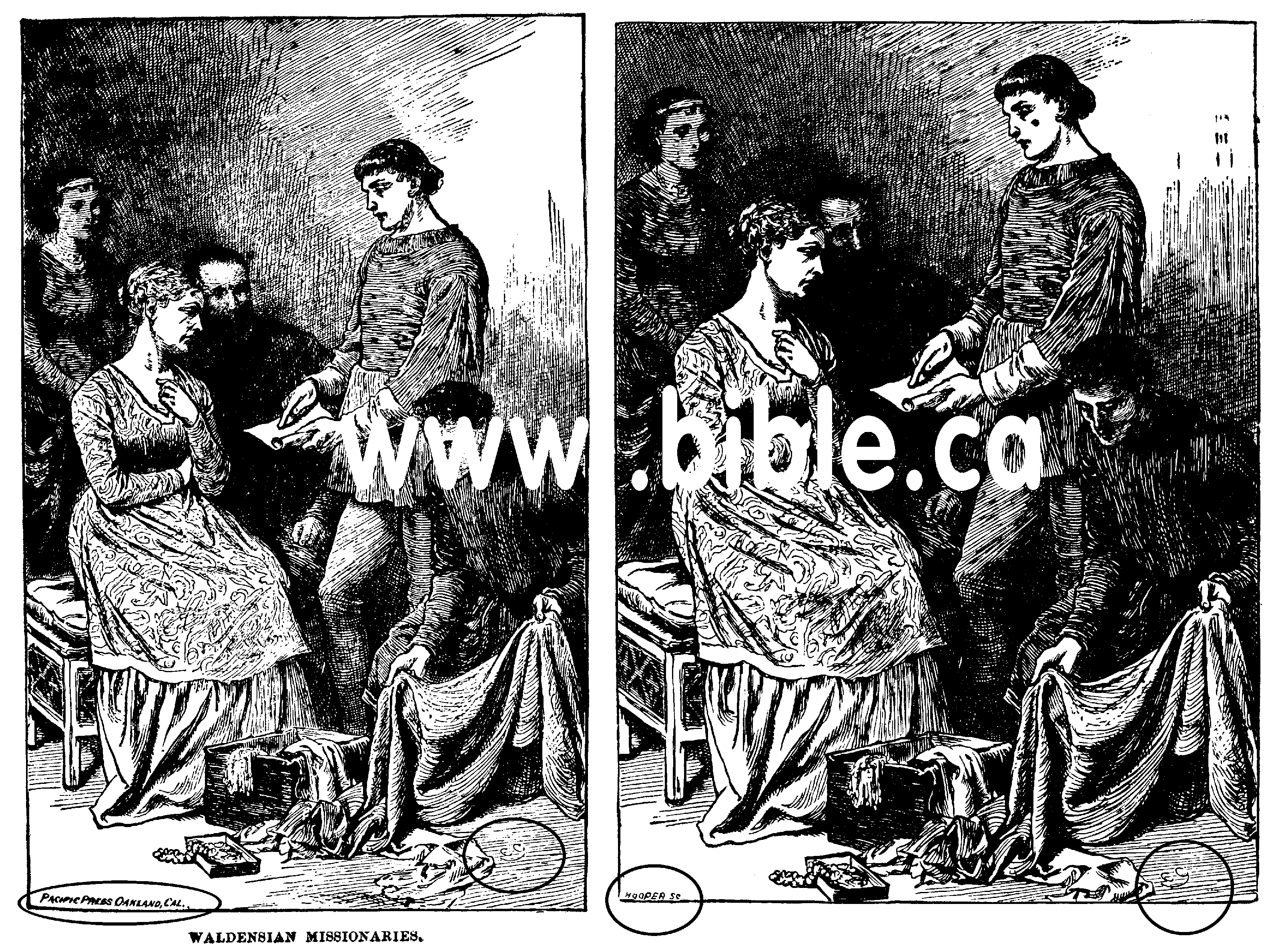 Click on photos for ultra high resolution
Left: The Great Controversy.................... Right Wylie's book
Notice that White was an experienced plagiarist and actually deleted the original scribal artist's signature and inserted her publishing company! This is just one of many examples of artwork theft. Offenses include: replacing original scribes signature HOOPER SC, with "Pacific Press Oakland, Cal."
These pictures were produced from the drawings of an artist, then a scribe would etch into wood or metal, a copy of the drawing for printing.
The original artist's initials appear to be in the right hand part of the photo as "CC". Although this is not certain and no one knows if CC really is the initials of the name of the artist. It could be an abbreviation for carbon copy, meaning it was a duplicate of the original.
Notice in the left hand corner of the picture in Wylie's book is HOOPER SC. This may stand for, HOOPER, the SC may be an abbreviation for "scribe" or "sculpsit" who etched the picture onto the printing press medium.
Now it is argued that since White had the drawing "re-etched" into a printing medium a second time, that means she can drop "HOOPER SC" and put her own in its place. That would only be legal if they had the original drawing, which they did not. Since the picture was scribed a second time, from Hooper's scribal etching, White was obligated to leave Hooper's name on, and only then could White put her own on the drawing. In the art world, If you repaint a "Mono Lisa" from a drawing someone else made of the original, you must give credit to the one whose drawing you used!
But if White really was above board and felt she had the right to remove "HOOPER SC" because she had it scribed onto metal a second time, why did she not put 'SC" after "Pacific Press Oakland, Cal." so that it looked this way: "Pacific Press Oakland, Cal. SC" So white is just a plagiarist, no matter how you look at it!
Remember, all this material comes out of book called, "The White Lie" written by Walter Rae, who has been an ordained Seventh-Day Adventist pastor for 40 years and even today, is a member in good standing, attends Sabbath service every Saturday and is still an ordained Pastor in the Seventh-Day Adventist church. We did not write this material, we merely reported it directly out of Pastor Rae's book! (Notice, we always give credit for our source!)
To White's credit, she did buy the rights to use all these pictures. But that is not the issue. If I buy the right to use someone else's photos, I cannot put my name on it and pass it off as my own work. Money doesn't make an artist.
Lets not forget and make it very clear, is that she plagiarized the words beside the picture without giving credit as well! She not only copied the pictures, she copied the words right beside the picture and claimed it a revelation of the Holy Spirit! (The back cover of the Great Controversy, tells the reader White was an prophet inspired by the Holy Spirit.) Wow I think I will visit the library and get some inspiration! I can get real inspired with a photocopier! Imagine what White could have done with modern scanners and OCR programs! "The whole world could not contain the her inspired words!"
And for anyone who is not convicted that the charge White removed the original artist's name and replaced it with her own... Keep reading, it gets worse!