Mt. Hor, Moserah: Aaron's Mountain (Jebel Haroun) at Petra
Burial place of Aaron during the Exodus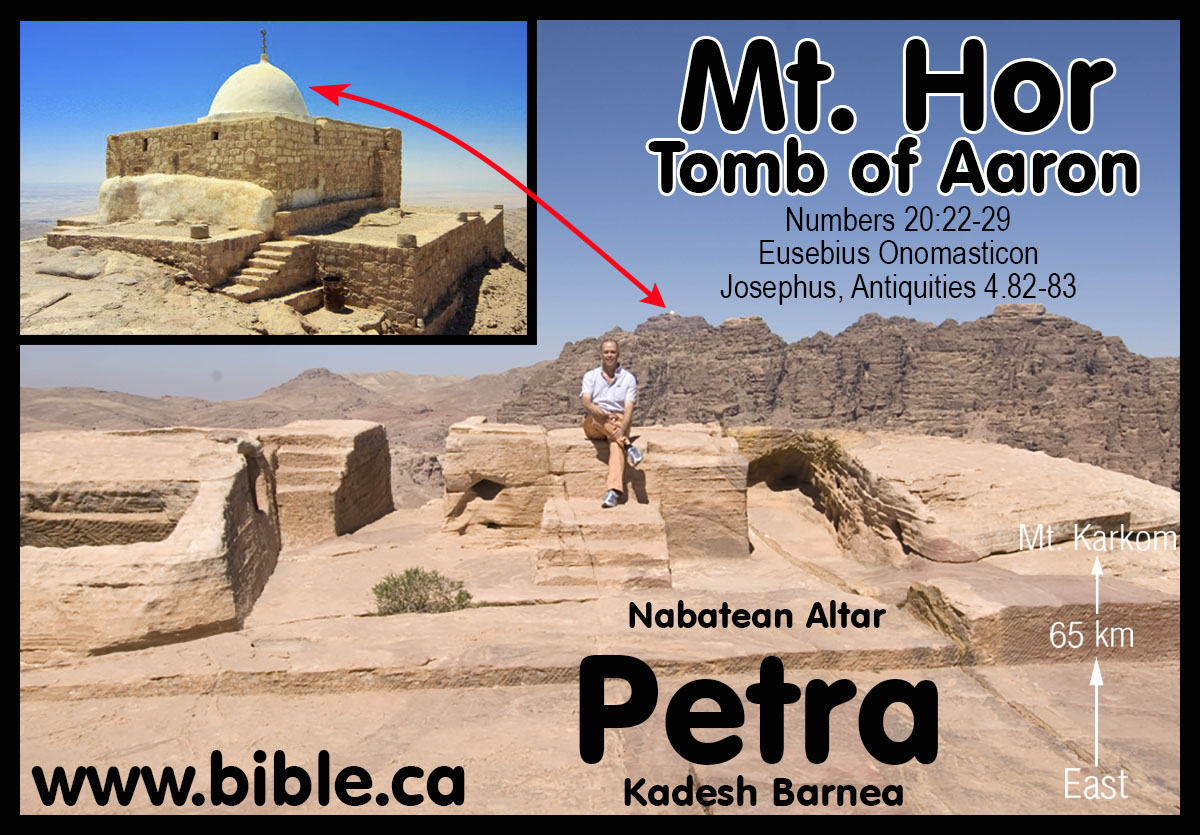 Introduction:
Mt. Hor was only "one stop" from Kadesh: Numbers 20:22
Both Kadesh and Mt. Hor were on the border of Edom: Numbers 33:37
Jebel Haroun: Literally, "the Mountain of Aaron"
When John Lewis Burckhardt discovered Petra in 1812 AD, he began to hear local Bedouin tales of a magnificent city carved ages ago out of solid rock by magicians working for the Egyptian pharaoh. The city was located in the vicinity of the Tomb of Aaron and a valley called the River of Moses
A. History of the search for Mt. Hor:
| | |
| --- | --- |
| The little white dome on the top of the summit is the Tomb of Aaran of Mt. Hor at Petra. | |
The oldest historical record we have regarding the location of Mt. Hor is by Josephus, who located it at Petra.
Maps up until 1831 AD located Both Kadesh Barnea and Mt. Hor at or near Petra.
However, between 1831 and 1916 AD, the location for Kadesh and Mt. Hor were moved from Petra to four places: In 1831, Karl Von Raumer chose Ein Hasb for Kadesh Barnea. In 1838 Edward Robinson chose Ein El Weibeh. just a few km south of Ein Hasb. Between 1881-1916 AD, Kadesh was located at Ein Qedeis. Between 1916 -2005 AD Kadesh was thought to be at Ein el-Qudeirat. Since 2005 AD, Kadesh has been stored back to the Petra area.
As a result of moving Kadesh, there was a necessity to move Mt. Hor, since they are only one stop apart in the exodus route.
Between 1881 to the present time, Jebel Maderah has been the choice for Mt. Hor by those who believe Kadesh is at Ein el-Qudeirat.
B. 1881 - 1916 AD Mt. Hor located at Jebel Maderah: (also spelled Madherah)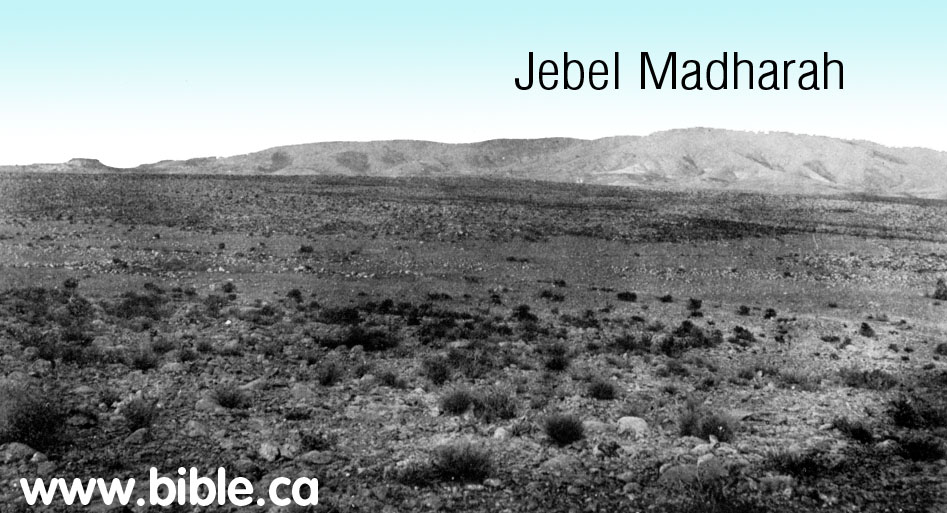 C. What the Bible says about Mt. Hor:
| | |
| --- | --- |
| | Mt. Hor at Petra |
Death of Aaron: "Then the Lord spoke to Moses and Aaron at Mount Hor by the border of the land of Edom, saying, "Aaron will be gathered to his people; for he shall not enter the land which I have given to the sons of Israel, because you rebelled against My command at the waters of Meribah. "Take Aaron and his son Eleazar and bring them up to Mount Hor; and strip Aaron of his garments and put them on his son Eleazar. So Aaron will be gathered to his people, and will die there." So Moses did just as the Lord had commanded, and they went up to Mount Hor in the sight of all the congregation. After Moses had stripped Aaron of his garments and put them on his son Eleazar, Aaron died there on the mountain top. Then Moses and Eleazar came down from the mountain. When all the congregation saw that Aaron had died, all the house of Israel wept for Aaron thirty days." Numbers 20:23-29
"Then they set out from Mount Hor by the way of the Red Sea, to go around the land of Edom; and the people became impatient because of the journey." Numbers 21:4
"They journeyed from Bene-jaakan and camped at Hor-haggidgad. They journeyed from Hor-haggidgad and camped at Jotbathah." Numbers 33:32-33
"They journeyed from Kadesh and camped at Mount Hor, at the edge of the land of Edom. Then Aaron the priest went up to Mount Hor at the command of the Lord, and died there in the fortieth year after the sons of Israel had come from the land of Egypt, on the first day in the fifth month. Aaron was one hundred twenty-three years old when he died on Mount Hor." Numbers 33:37-39
"Then they journeyed from Mount Hor and camped at Zalmonah." Numbers 33:41
"'And this shall be your north border: you shall draw your border line from the Great Sea to Mount Hor. You shall draw a line from Mount Hor to the Lebo-hamath, and the termination of the border shall be at Zedad" Numbers 34:7-8
"Then die on the mountain where you ascend, and be gathered to your people, as Aaron your brother died on Mount Hor and was gathered to his people," Deuteronomy 32:50
D. Where did Aaron Die?
Although the Bible is clear that Aaron died on Mt. Hor, Deut 10:6 seems to say that Aaron died at "Moserah": "Now the sons of Israel set out from Beeroth Bene-jaakan to Moserah. There Aaron died and there he was buried and Eleazar his son ministered as priest in his place. From there they set out to Gudgodah, and from Gudgodah to Jotbathah, a land of brooks of water." Deuteronomy 10:6-7
There is a difference in the itinerary between Deut 10 and Num 33 because order of the stops seems to be reversed. This kind of reversal is common in the synoptic gospels and does not represent a contradiction. Often the timing and sequence of actual events is arranged differently depending upon the purpose of the narrative. Acts 10 and 11 tell the same story but in very different order. Here the Holy Spirit told us that the Chapter 11 narrative by Peter is in fact the correct: "But Peter began speaking and proceeded to explain to them in orderly sequence, saying," Acts 11:4
"The most reasonable way to understand the Numbers and Deuteronomy passages is to assume that Deuteronomy, unlike Numbers, is not in the form of a technical itinerary and therefore is to be seen as a mere listing of sites of significance without any necessary attention to spatial or even chronological sequence. In other words, the purpose of the passage is not to dictate one's understanding of its geographical data. Moses was content to mention places that bore out his contention that Israel's history had been one of constant covenant defection." (The New American Commentary, Deut 10:6)
It may be that Moserah is the district and Mt. Hor is the specific mountain.
Conclusion:
In 1881 AD Mt. Maderah was proposed as Mt. Hor, only because they had decided that Kadesh was not at Petra, but at Kades, then later Qudeirat.
We know from the Bible that Kadesh must be located transjordan, therefore Mt. Hor at Petra is the only choice.
By Steve Rudd: Contact the author for comments, input or corrections.