The Search for Noah's Ark with Dr. Don Patton
Who is Noah's Ark Ministries International (NAMI)?
NAMI consists of an amateur ark hunter, a movie producer and a few volunteers.
Our critique of NAMI and their response
1. Don Patton's video exposing NAMI fraud wmv, flash, real Sept 14, 2010
2. Joint Paper by Randall Price and Don Patton on NAMI fraud: Nov 20, 2010
3. Don Patton's critique of 1st NAMI response: Dec 3, 2010
4. Don Patton's critique of 2nd NAMI response: Dec 10, 2010
5. Don Patton's exposes the fake wood photos: Dec 7, 2010
A very convincing photo but... the wood in the photo below was planted by Parasut after he "discovered" Noahs' Ark. Like an "Easter egg hunt" NAMI was taken to the Ark "movie set" and found the wood they brought back. No one from NAMI has any direct knowledge where the really wood came from. According to one source some of the wood came from an old barn, however, other sources said the large wood came from an old ferryboat from the city of Trabzon near the Black Sea that Paraşüt bought with the Chinese. The workers also brought some things from the Hot Springs at Kaplica (at Diydan). Nothing has been published about the wood and it is likely from the old wooden ship that Parasut purchased to help build the ark movie site. The white (plastic?) beads were removed from the "Ark site", but NAMI refuses to identify what they are.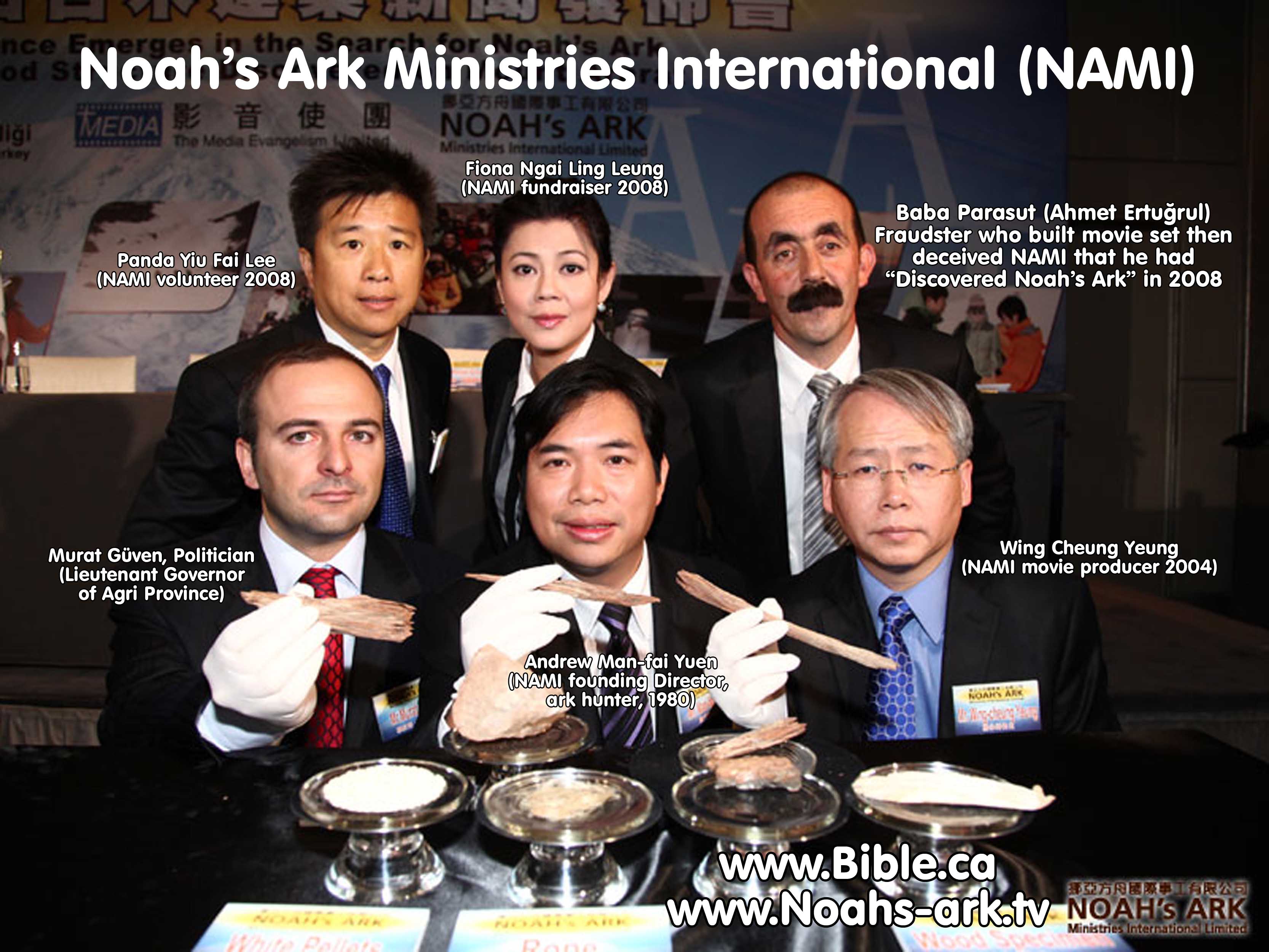 1. Mr. Andrew Yuen, Man-fai, is the founding director of NAMI. A Hong Kong Team Member Andrew Yuen became interested in the Ark when he read a news article in the 1970's that reported that a satellite photo taken of Mount Ararat in Turkey showed the image of Noah's Ark. Since that time, he has researched as much information as possible regarding the Ark, and has climbed the mountain in order to search for evidence in accord with his faith.
2. Mr. Wing Cheung Yeung is both a director of NAMI and a movie director of "Sparkling Sun International". A Hong Kong Team Member Mr. Yeung is a media veteran who has produced the popular and award-winning documentary series. He started involvement in Ark search in 2004. In October 2009, Mr. Yeung directed a film crew to shoot the mountain expedition of the team, documenting the interior structure of the discovered wooden structure on Mt. Ararat.
B. Other key, high profile NAMI members:
1. Mr. Panda Lee, Yiu Fai Hong Kong Team Member Mr. Lees is the famous "Orange Man" in all the published photos. Lee joined the search team in summer 2008, aiming at verifying the existence of a large wooden structure on Mt. Ararat. He accomplished the mission and became the first Hong Kong team member to witness the structure.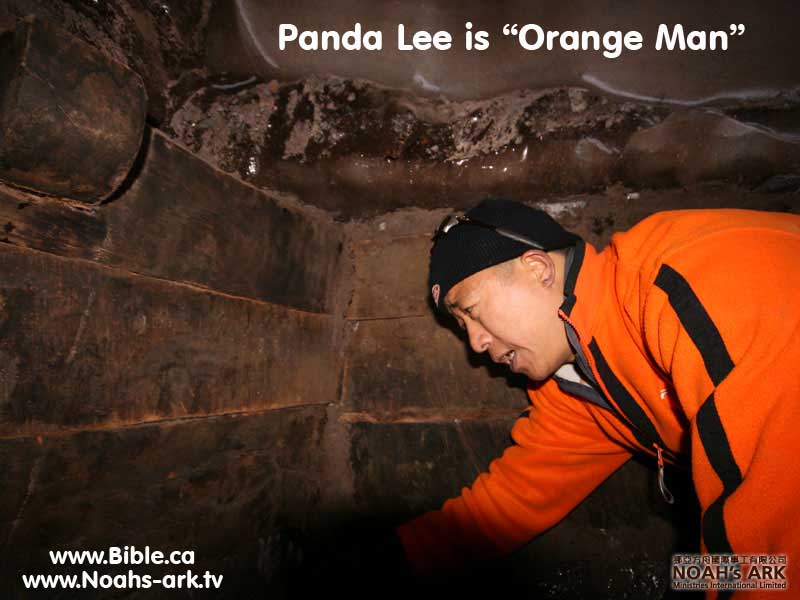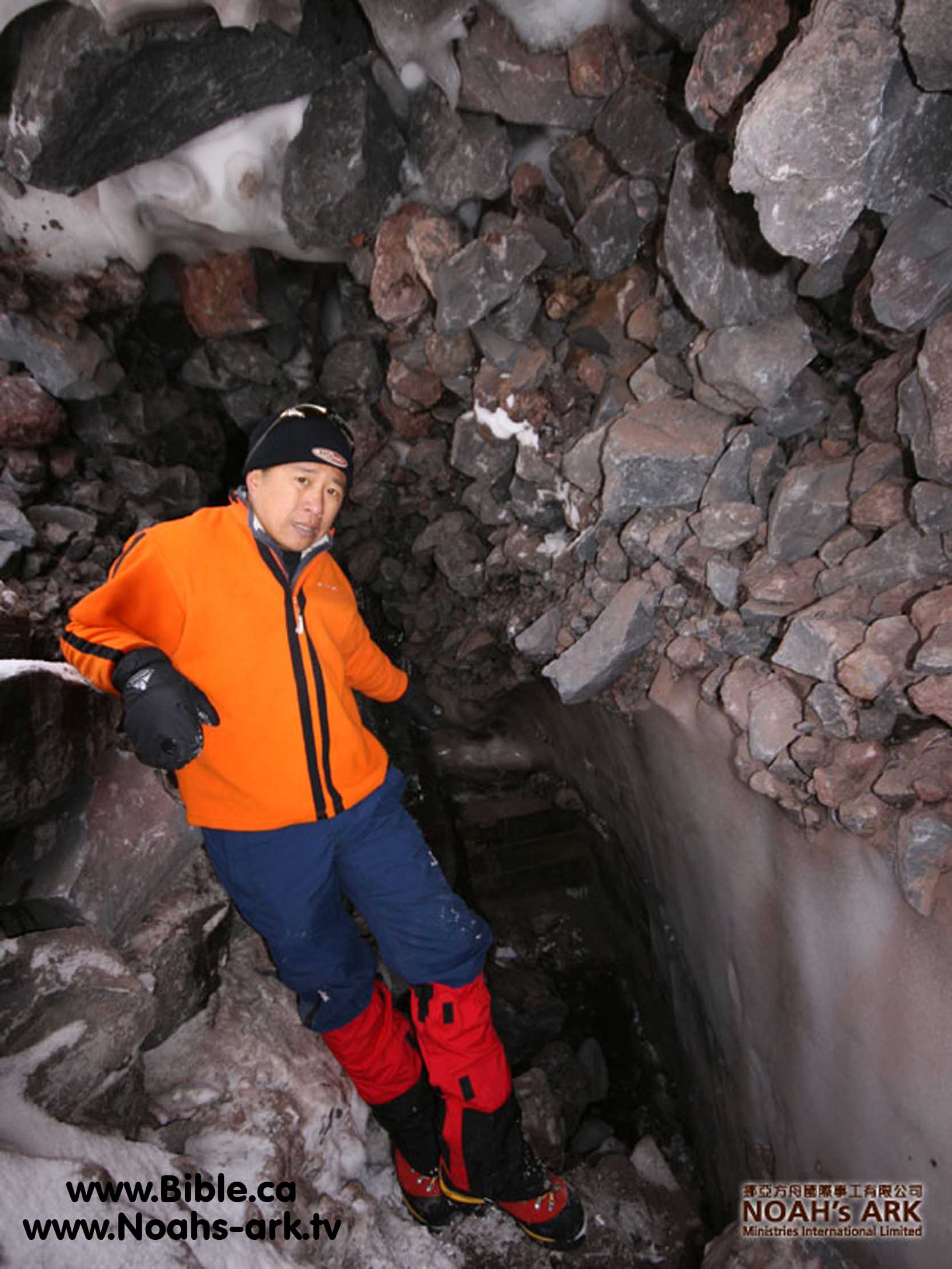 2. Ms. Fiona Leung, Ngai Ling Hong Kong Team Member Ms Leung began her involvement in the ark search project as a fund-raiser. In the summer of 2008, she volunteered to climb the mountain with the search team. Following several unsuccessful attempts, she finally entered the wooden structure on Mt. Ararat in October 2009 and became probably the first female researcher to get inside the structure.
A very convincing photo but...

Of course it is important to realize that the wood Fiona Leung holds in her hand was given planted by Parasut on his "Movie set" ark site and he then brought NAMI up the mountain to find the wood pieces like an Easter Egg hunt, where Parsut is the Easter Bunny hiding the wood.
C. Non-NAMI members who are behind the "Movie Set" Fraud:
1. Baba Parasut (Ahmet Ertuğrul) is the primary Fraudster who built movie set then deceived NAMI that he had "Discovered Noah's Ark" in 2008. He has a local reputation for being a "rough individual" and a drunk. He is too unfit and unhealthy to actually climb the mountain very often. His reputation as a "mountain guide" is his own deceptive fabrication.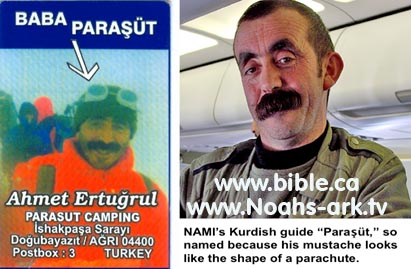 2. Clara Wei is a Chinese hired worker as the liaison with their foreign contacts is not part of NAMI staff. She is part of the "movie set" fraud and in full cahoots with Parasut. In April 2009 Clara Wei reported that the climber had reached the outside of the site and found a 60-foot long wood beam in the snow and had found wood at the entrance of a "cave" similar in appearance to that in the photographs issued by Paraşüt.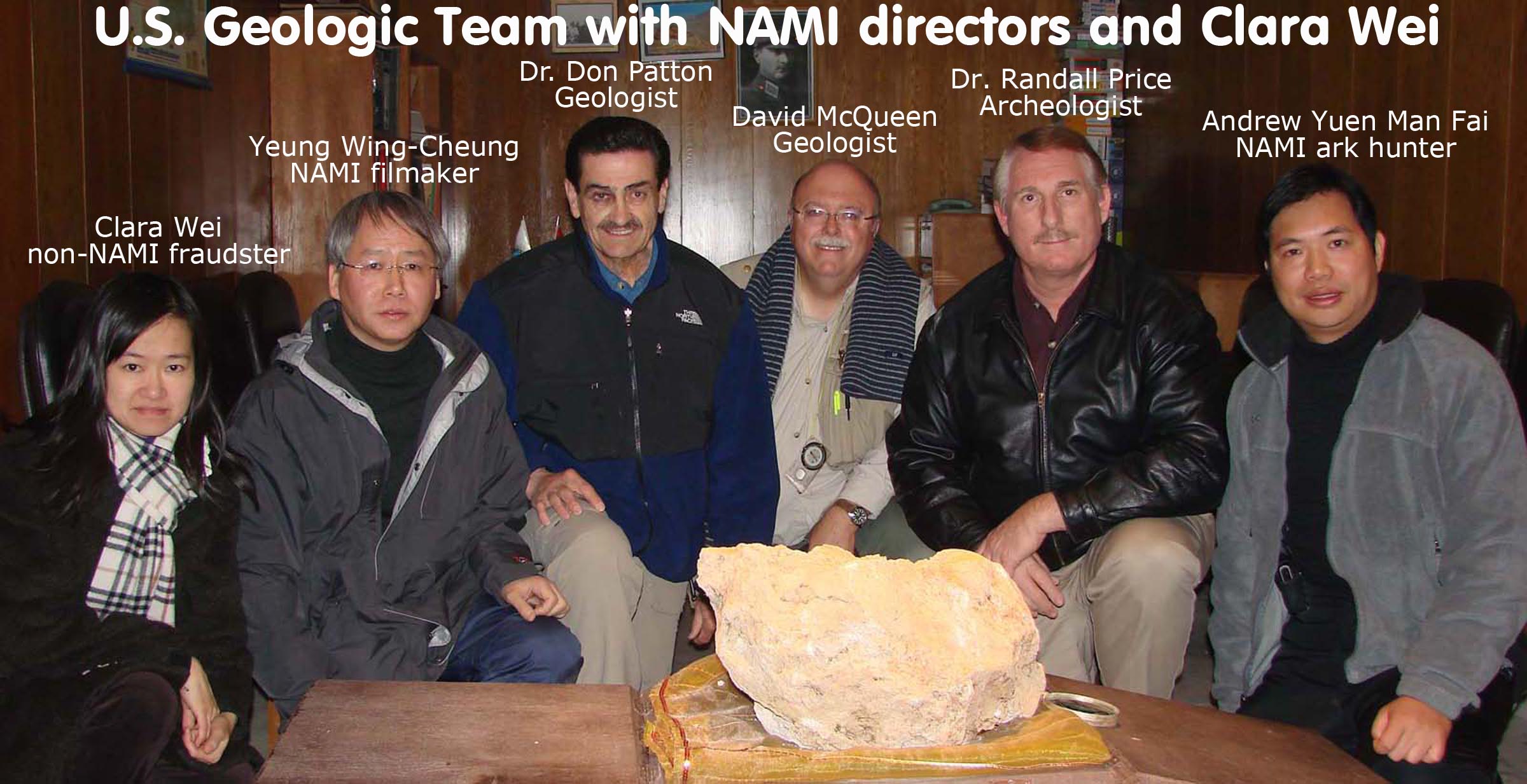 C. Politicians seen in photos with NAMI:
1. Murat Güven, is a politician and not part of NAMI. He is Lieutenant Governor of Agri Province. Discovering Noah's ark is good for local tourism and his support of NAMI is not based upon science, fact or archeology.
Conclusion:
NAMI claims to have made the biggest archeological find in world history: Noah's Ark. If true, they could invite ANY top rated archeologist alive today and he would be very eager and willing to participate in documenting such a remarkable find of this great magnitude. Instead, NAMI has chosen to "bypass" the scientific community and produce a Hollywood style documentary movie that they will try to sell to the networks and privately to individuals. The choice to make a movie rather than utilize a qualified archeologist speaks volumes about who and what NAMI really is. This is especially obvious in light of the fact that they have terminated any further association with Dr. Randall Price. He earned his Ph.D. in Archeology from the University of Texas, where he then taught Archeology. He is presently serving as Distinguished Research Professor and Executive Director of the Center for Judaic Studies at Liberty University. He was a perfect candidate, extremely interested and willing. Instead, releasing a money-making movie, rather than documenting their "discovery" with a qualified archeologist, has all the indications of fraud. Instead of seeking to publish the details of their "archeological discovery" in a "peer reviewed" scientific journal, they put out a DVD to make money.
By Dr. Don Patton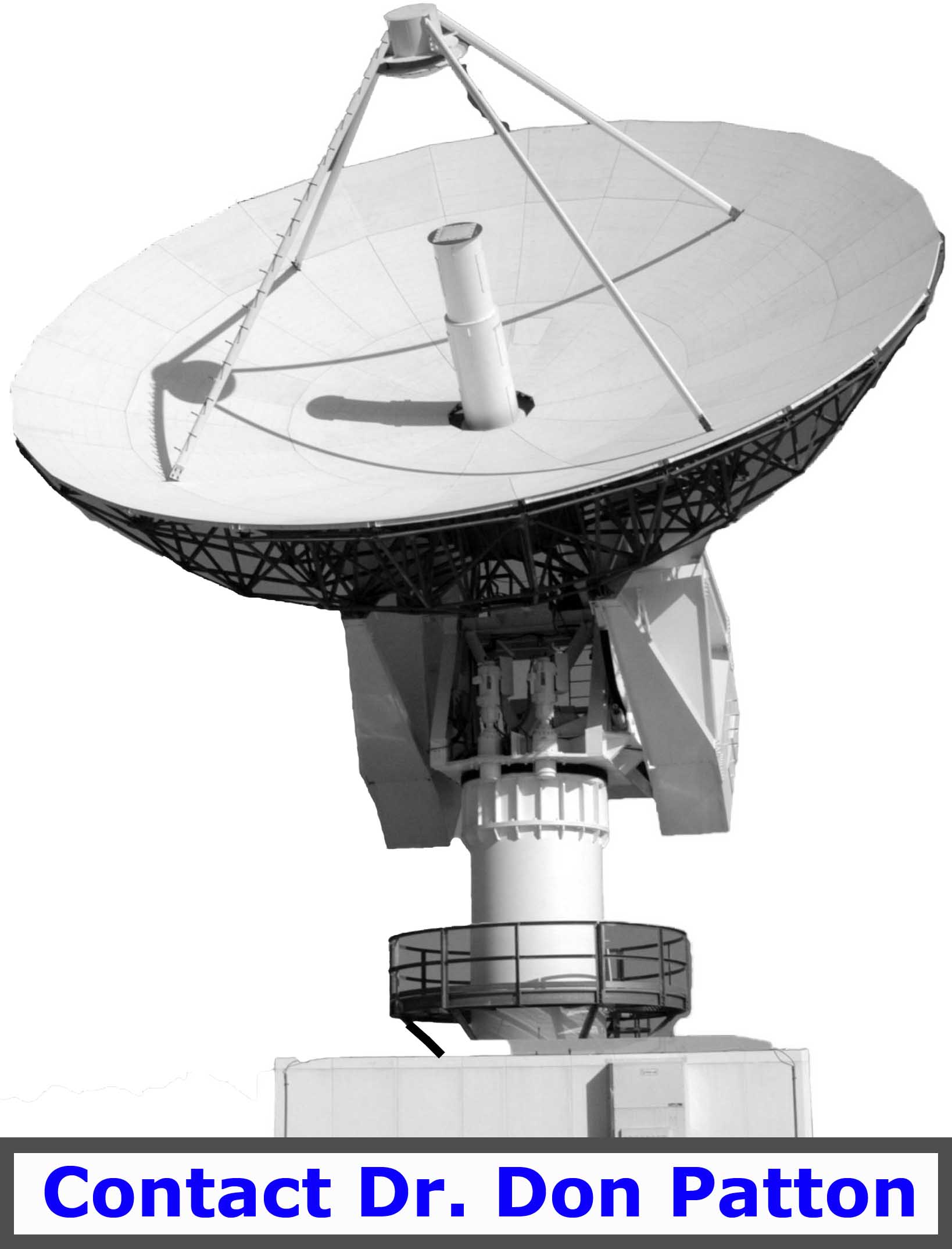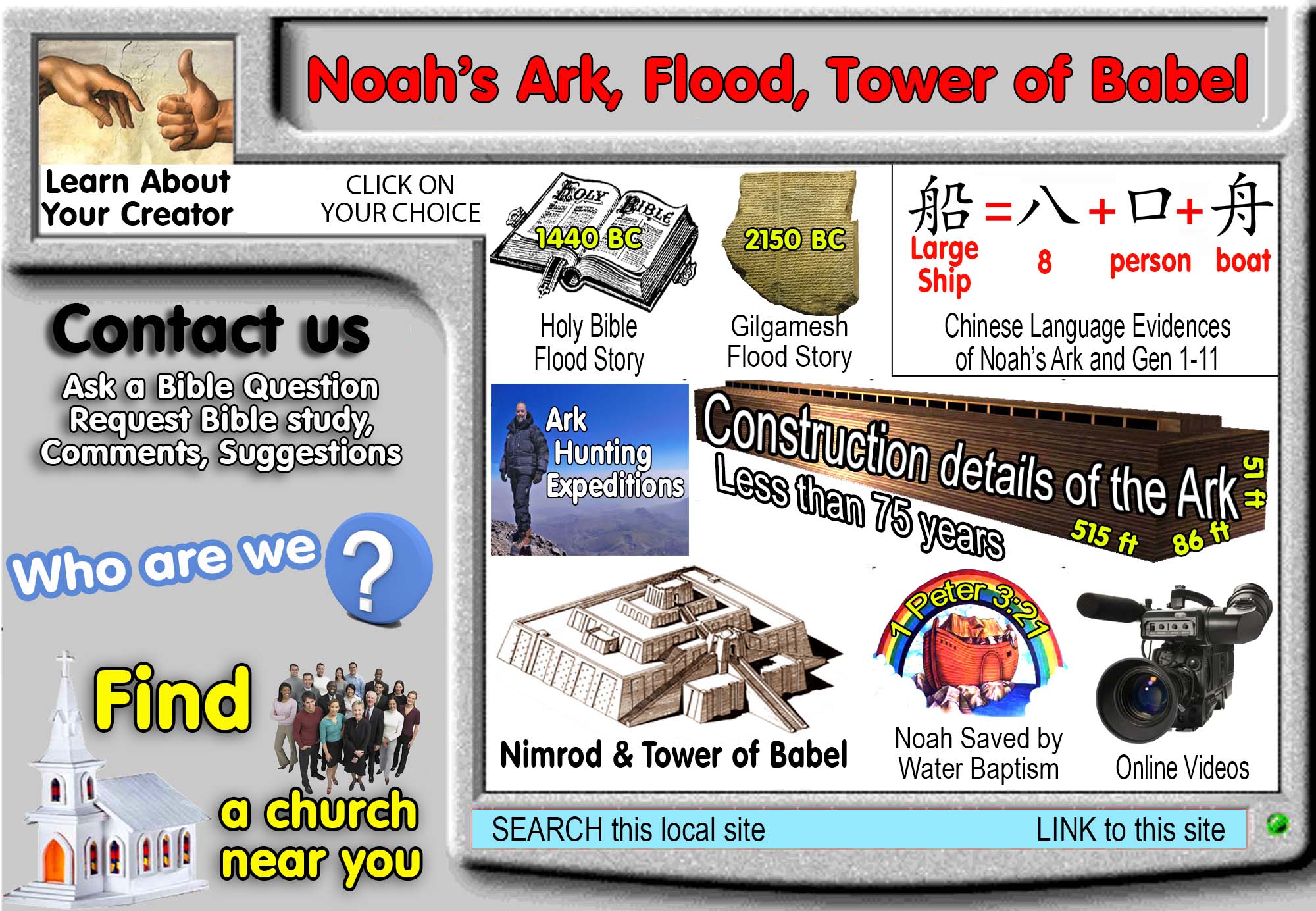 Noah's Ark, Flood, Nimrod, Tower of Babel