The Spirit of Disease; or Diseases From the Spirit


Franciscus Mercurius van Helmont
1694 AD

Introduction:

In 1694 AD, Franciscus Mercurius van Helmont reported a method of water torture used by his father, Johann Baptista van Helmont to cure insanity. This was later improved upon by Patrick Blair in 1725 AD. Most important, was the fact that Helmont believed "raging madness" was a disease caused by the human spirit and will. It was a form of water torture and its success in curing the insane.
| | |
| --- | --- |
| | The insane were suspended by their feet above a large tub of water and lowered, head first up to their waist to the point of asphyxiation. Some died, some survived, some were cured. Helmont wisely, advises to get the court's permission to do this in case they actually drown. It was practiced upon the worthless and lazy that were "of no use in the Common wealth" to make them pull their own weight in society, as well as the "Raving mad". Many cures of insanity were boasted, "did cure several distracted Persons this way, there are many in Holland that can verify" ... "several Cases [of raging madness] be cured by casting the Patients into the Water". The success of this method prove that a mad man with "raging madness" can control and change his conduct. Whether he was faking it or not, he was able to stop acting like a madman and become a productive worker in society. Houdini performed a stunt of escape from a water tank that exactly simulated Helmont's water torture. |
Waterboarding
| | |
| --- | --- |
| Today, Water Boarding is called the "enhanced interrogation technique" used by the US army against Muslim Terrorists to gain valuable information about future and past terrorist attacks. The CIA use it because it work! In Waterboarding, a person is strapped to a board and ice water is dripped on his head with a cloth covering his face. A combination of the cold and the fear of drowning changes the will of the person to comply. Water-boarding has its origin in part, with Helmont. Not only do we feel it should be used the US government, we would like to see it the "out of control" insane who are locked up in mental hospitals also waterboarded. It would save us a lot of tax dollars in a large number of cures! (The Spirit of Disease; or Diseases From the Spirit, Franciscus Mercurius van Helmont, 1694 AD) | |
Observations concerning Method of curing Fools, and distracted Persons.
Dr. Richardson, according to his own Confession, learnt out of my Father's Writings, and using the same, recovered many. The way he took was this, having stript the Parties naked, he bound their hands upon their backs, and ty'd their Feet to a Rope fastened to a Pulley for to let them down more or less deep into the Water; and then setting them up on a Bench with their Backs towards a great vessel with Water, he bulled them up by the Rope which was fastened to their Feet, and so let them fall with their Heads downwards to their Waste into the Water, yet so as that their heads did not touch the bottom of the Vessel, and there left them till he judged that their upper Parts were drowned. It may happen indeed that some through fear, or because they are not strong enough to stand out this Method, may miscarry and die; and therefore it is fitting that permission should be procured from the Magistrate for the exercising of this practice, as it is usual for cutting of the Stone [surgery that removed Gall stones], which is likewise a doubtfull Operation, and from whence all do not escape with Life. And for as much as Fools or distracted Persons, by being bereft of their understanding, are of no use in the Common wealth; whereas those who are troubled with the [Gall] Stone may notwithstanding that Disease some way or other contribute to the well-being of it, it is more reasonable that this Method should be used towards the former, than the Operation of Lithotomy practiced upon the latter. And that the foresaid Doctor did cure several distracted Persons this way, there are many in Holland that can verify: From what hath been here alleged, it appears very evident, that Water puts a stop to the too violent and exorbitant Operation of the fiery Life, or doth mortify the same, and alter the Operation of the Idea's that afflict and torment distracted and Hydrophobous Persons. And since these Idea's consist of a fiery and watery Essence, according to section 19. consequently those affective Images may these two ways bereave Persons of their understanding; viz. either by stirring up our Fire into an over-strong Activity, which causeth Raging Madness, and as hath been said, may in several Cases be cured by casting the Patients into the Water; or else by producing such a Sorrow and Melancholy, as is accompanied with continual weeping, which often causes the Persons so afflicted to become mopish, or foolish, as hath been hinted section 19. (p 44-46)
"The name magnetism is given to the occult influence that bodies exert on each other at a distance . . . Magnetism acts everywhere and there is nothing new in it but the name."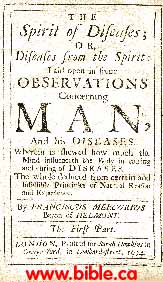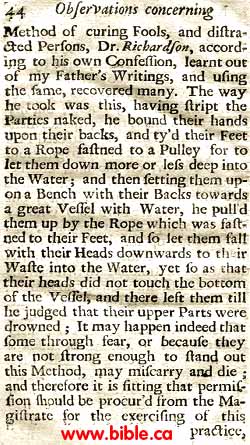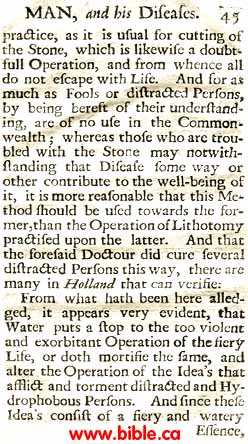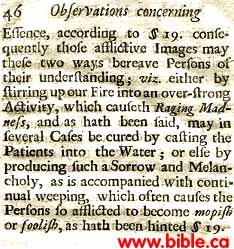 By Steve Rudd:

Contact the author for comments, input or corrections.

Send us your story about your experience with modern Psychiatry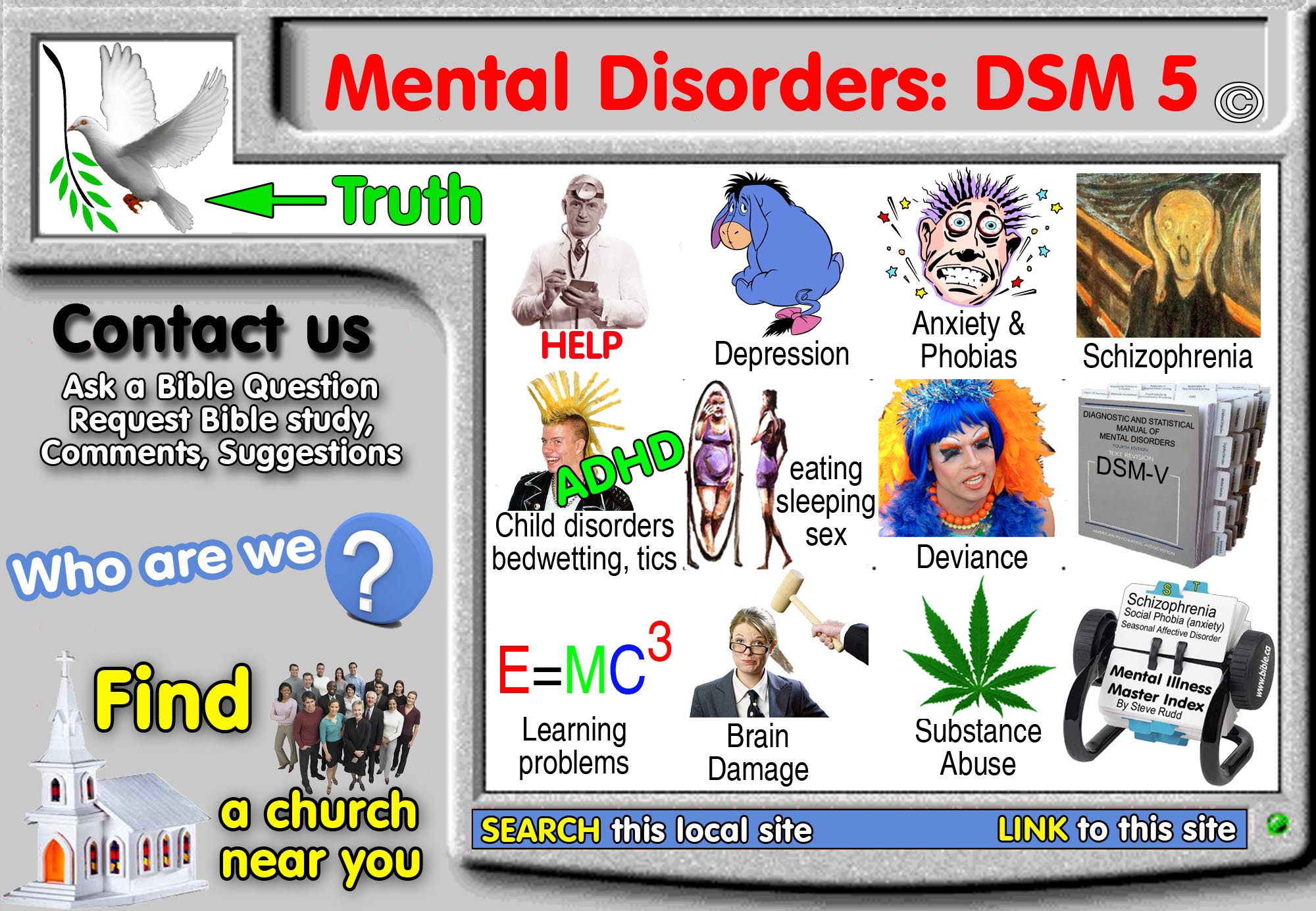 Go To Start: WWW.BIBLE.CA