Clinical Textbook of Biblical Psychiatry Master Index of Mental Illnesses
The Bible is the standard of all moral behaviour.
Mental Illness

is a behaviour choice

not a disease.
Biopsychiatric Behaviour Label

Case Studies

Alcoholics Anonymous (AA)

Attention-Deficit (ADHD)

Bipolar Disorder (BPD)

Eating disorders: Anorexia, bulimia

Shampoo, Hooky, Sponge, Crutches, Deferred, Bedridden, Mouse, Amnon

Multiple Personality Disorder (MPD)
or Dissociative Identity Disorder, (DID)

Panic Disorder (PD)

Postpartum Depression (PPD)

Schizophrenia, Delusion

Applesauce, Faint, Abba, Operator, Barefoot, Dogs, Kitten, Zombie, Wolfhound, Cobbler, Socrates, Moonchild, Soup, Hercules, Headless, Lovesick, Subterranean, Brimstone, Waterfall, Saul

Social Phobia (SP)

Tourette's Syndrome (TS)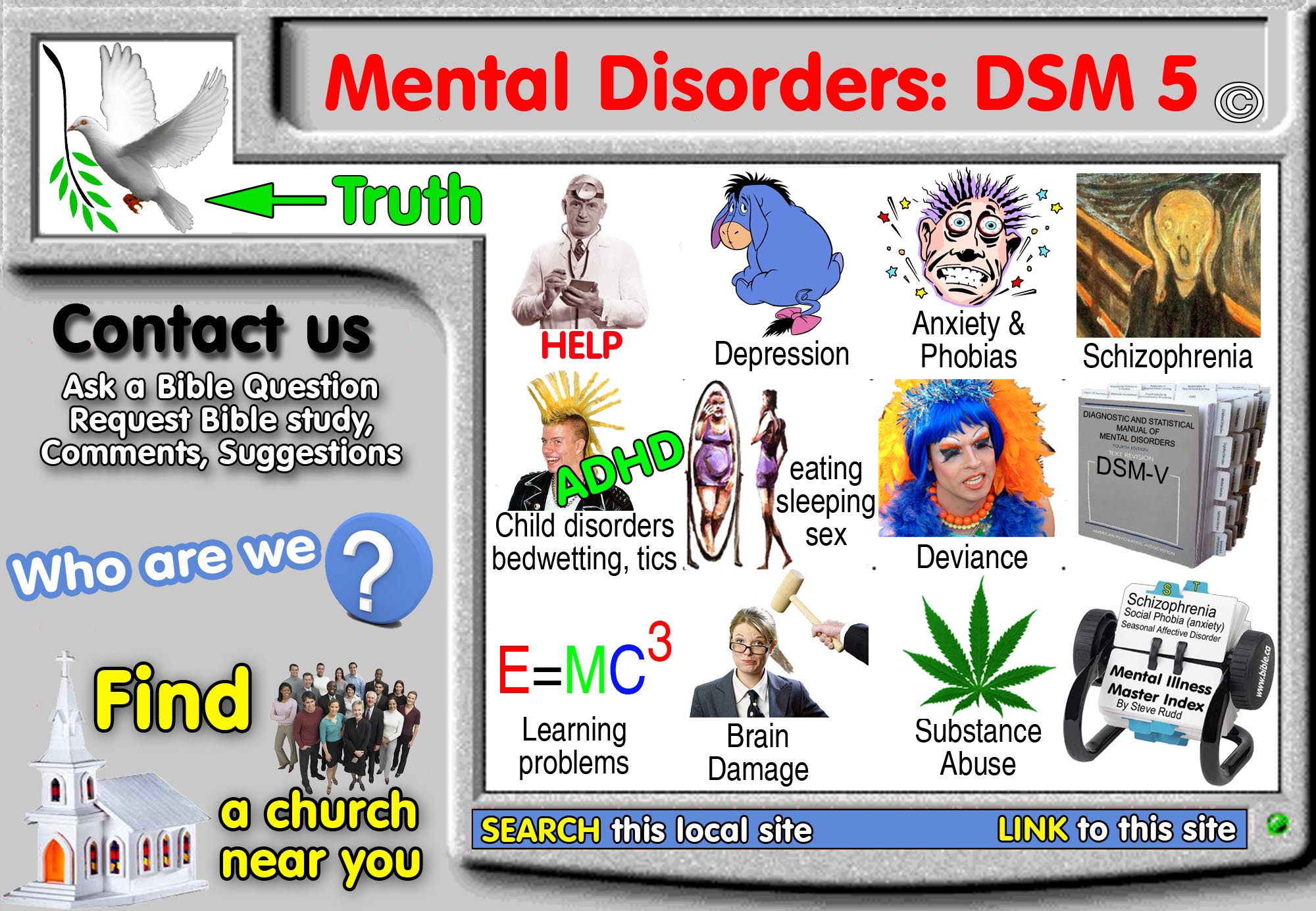 DSM-5: Mental and behavioral disorders (F01-F99)

"Draw near to God and He will draw near to you. Cleanse your hands, you sinners; and purify your hearts, you double-minded." James 4:8

"For this people's heart has become calloused; they hardly hear with their ears, and they have closed their eyes. Otherwise they might see with their eyes, hear with their ears, understand with their hearts and turn, and I would heal them. Acts 28:27
By Steve Rudd: Contact the author for comments, input or corrections.
Send us your story about your experience with modern Psychiatry